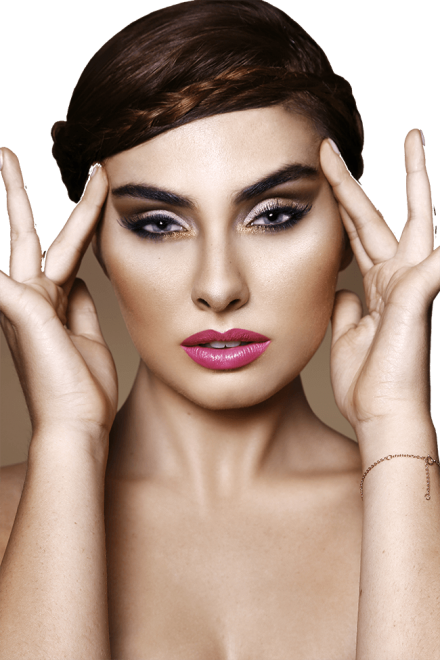 HD Airbrush Makeup Artist & Senior Educator
MY NAME IS Chantel

Chantel Rahme
From international events to local television and celebrity presence, HD Airbrush Makeup Artist, Senior makeup educator & founder of CR Luxury Cosmetics, Chantel Rahme is an expert in her field with over 6 awards for best makeup artist.
A true creator, innovator, and passion in all she creates, has led her to the innovation of CR luxury Cosmetics' with years of vision brought to life through the expansion and success of the CR luxury Cosmetics brand
Creating faces is beyond one area for this multi award winning makeup artist who is a leader, makeup designer and educator in all aspects of the makeup industry. By understanding the dynamics & techniques of airbrushing and her interpretation of colour, beauty and the art of face, she holds the secret to achieving the ever-famous "red-carpet glow" & "flawless" complexation making you 'selfie ready" and red-carpet worthy.
Chantel has earned the title '

The Makeup Expert

' over her 17 years' experience in the makeup industry. She has become an inspirational voice and one of the most knowledgeable beauty experts. With her strong reputation for professionalism, creativity and fashion-forward ideas, her overwhelming client list and satisfaction rate is testimony to this.
ABOUT ME
With

a creative vision like no other, Chantel's extensive experience includes:
Airbrush makeup (a must for any person wanting perfection on their big day- Rolls Royce of foundation-high definition makeup!)
attended the Khloe Kardashion, Sir John & Jen Atkins (Kardashian hair & makeup artists) masterclass in Sydney
recently featured giving expert makeup advice in a beauty lifestyle book named 'what women need' published Dec 2017
Bridal makeup, with 18 years' experience in this alone
Glamour, editorial and high fashion makeup
Film/TV, special effects for movies
Channel 7 & channel 9
MBFW Fashion week and MBFF Fashion week festival
Dally M awards, MTV Awards, AACTA Cinema & Television awards
MBFW fashion week Australian advertising campaign- face of fashion week
Campaigns
Chantel's experience in Campaigns and Runway spans MBFW Fashion Week Sydney and Melbourne six years ...
Shows
Chantel has directed the head of the makeup team for an array of shows including the bridal expo ...
Teaching
Chantel has shared her expertise and love for makeup by teaching at Sydney's premier makeup colleges ...
Knowledge
With six years managerial and trainer experience for MAC Cosmetics, Chantel is widely known for her product knowledge in ...
The secret to my success is my passion. I am heavily inspired by fabrics, colours, current trends and the many faces I work on. The challenge is to never have two makeups the same, tailored to your specific features so the key is to be creative and accentuate each person's true beauty.
Chantel Rahme
OBJECTIVE
To enhance one's individual beauty by creating the look they desire – whether it is glamorous, sophisticated or luminous and natural. Making you feel as beautiful on the outside as you are on the inside.
Chantel only uses high quality products including MAC and CR CHANTEL RAHME luxury lip cosmetics but she also uses specific products from other high-end premium make up brands. Chantel is also passionate about high quality skincare products as this ensures a good make-up base and longevity of professional makeup.